SONGWON's ESG Policies – for a Sustainable Future
Join us in our mission to create a positive impact through our comprehensive ESG policies.
ESG Environmental, Social, and Governance, encompasses a range of standards for evaluating a company's influence on society and the environment as well as its level of transparency and accountability. SONGWON is committed to upholding these principles and working towards a sustainable future for all.
SONGWON's Environmental Policy
Our commitment to a sustainable environment. Join us in caring for our planet and creating a better future.
At SONGWON, we are dedicated to promoting a sustainable environment through our comprehensive Environmental Policy. Our commitment includes the following key areas:
Zero environmental pollution accidents
Compliance with environmental laws and regulations
Energy efficiency through the management of greenhouse gas emissions
Reduction of air and water pollutants generated by continuous process improvements
Waste generation reduction via process monitoring and a reduction culture
Recycling rate increases through the recovery of raw materials, subsidiary materials and a waste heat recovery process
SONGWON's Health & Safety Policy
Ensure a secure and healthy work environment by putting safety and health first.
At SONGWON, we prioritize the safety and health of our workers and are dedicated to creating a work environment that is safe and promotes well-being. Our commitment includes the following key areas:
Zero safety accidents
Compliance with safety and health laws and regulations
Minimize disasters and diseases to ensure healthy workplaces
Establish a safety culture through health and safety training and public relations activities
Identify potential hazards and risks and make improvements

SONGWON's Labor & Human Rights Policy
Preserving Dignity, Freedom and Respect: Our Commitment to Labor and Human Rights.
SONGWON's Labor & Human Rights Policy ensures the preservation of human dignity, freedom and well-being. We comply with international standards and principles, such as the Universal Declaration of Human Rights and the UN Global Compact to support and uphold labor and human rights globally.
Respect for Human Rights: valuing and respecting the dignity of all employees
No Forced Labor: completely prohibiting any form of coercion, including slavery or human trafficking
No Child Labor: strictly complying with regulations and not employing children or youth under the age of 15
Employing Minors: complying with labor laws for employees under the age of 18 not permitting them to do any hazardous work
Fair Working Hours: adhering to labor regulations and paying overtime as required
Competitive Wages: surpassing minimum wage standards set by local labor laws
Non-Discrimination: embracing diversity and not discriminating based on gender, race, nationality, or religion etc.
Right to Association: supporting employees' freedom of association and the right to collective bargaining

PDF Downloads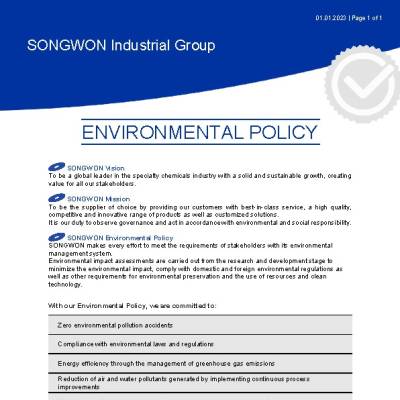 SONGWON's Environmental Policy
Download - 117.535 KB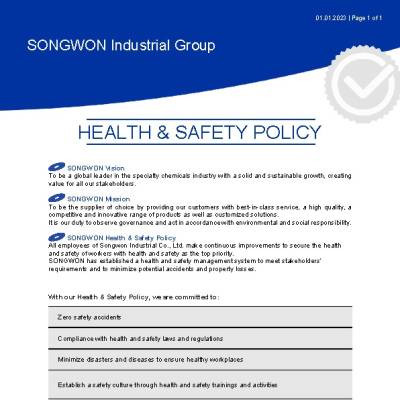 SONGWON's Health & Safety Policy
Download - 171.036 KB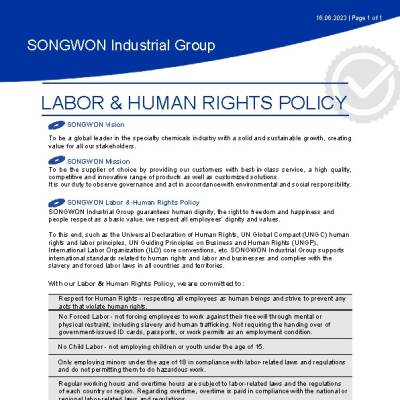 SONGWON's Labor & Human Rights Policy
Download - 195.641 KB